Located just outside of Ottawa, 10 minutes from the Ottawa international Airport and near the scenic Village of Manotick, the Rideau Valley Conservation Centre (RVCC) offers a unique environmental setting for your next business meeting, training session or staff retreat. RVCA does not rent its space for social events.
RVCC Rental Information
To learn more about renting space at the RVCC, download our Rental Guidelines (coming soon).
To see if your event's date is available, please complete our online RVCC Rental Request Form.
RVCC Facilities
The RVCC is a gold level LEED certified building — the first in eastern Ontario.
What is LEED?
LEED stands for Leadership in Energy and Environmental Design and is considered the worldwide standard in the construction of sustainable buildings. LEED is all about reducing or eliminating the negative impacts of building materials and the construction process on the occupants of the building.
Green Features — Inside and Out
Our energy and water efficient facility offers a large meeting room, an outdoor courtyard, kitchen and lobby area. Our outdoor space opens to the Beryl Gaffney Park and lovely walking trails that lead to the shore of the Rideau River. The RVCC is a nice departure from the concrete jungle.
The Rideau Valley Conservation Authority has been caring for the environment for over 50 years. Part of our commitment to the environment includes respecting the ecosystem we operate in and lessening our impact on it. That's why, it is only natural for us to build a "green" building — one that saves energy, improves efficiency and reduces waste.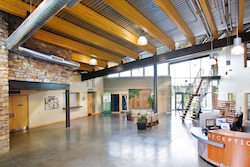 Atrium
A large, wide-open, airy space that can be used for meetings, gatherings and more. Full access to the boardroom kitchen via a pass-through.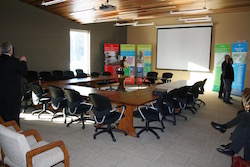 Monterey Boardroom
A large, 90-person sit-down capacity meeting room that is perfect for meetings, presentations or any gathering — audio visual equipment is available.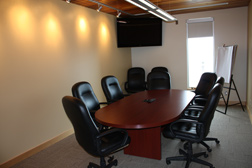 Meeting Room
Perfect for smaller meetings. Full hook-ups for computers. It boasts a large meeting table, comfy chairs and large flat-screen TV, great for presentations.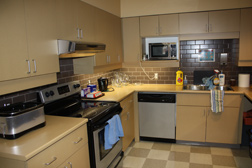 Kitchen
Perfect for food served at your meeting or event. Coffee, tea, sugar and creamer are available at no extra charge. A refrigerator, full-size stove, microwave and dishwasher are available for your use. Also, plates, small bowls, coffee mugs and utensils for up to 40 people can be used. Garbage cans, blue box and black box are on site.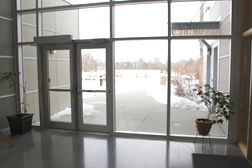 Outdoor Terrace
A beautiful, tranquil setting with picnic tables and a fountain. It's the perfect place to set up a BBQ, or just enjoy the fresh air during meeting breaks or lunch. Trails lead from our picnic area into tranquil forest setting along the Rideau River.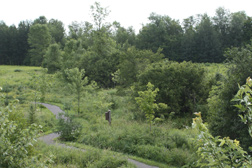 Other Features
Free fresh air and parking